September 1, 2006

RSS 2.0 Feed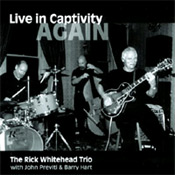 The Guys are at it "AGAIN." This is second in a series of "Live Room" recording by the Trio. They just set up in the studio and started calling tunes "just like a live gig;" totally improvised with no over dubs or fixes. The only editing is the order the tunes are presented on the CD.
Rick Whitehead was guitarist and featured soloist for "The Airmen of Note" for 22 years.While with the band, he toured all over the U.S. and overseas, recorded on more than 30 albums and CDs and worked with many prominent Jazz vocalists and Musicians including: Sarah Vaughn, Joe Williams, Billy Taylor, & Louis Bellson. Now retired from the Air Force, he works as a free lance musician and teaches Jazz Guitar at Shenandoah University in Winchester,Virginia and at George Mason University, Fairfax, Virginia.
John Previti, a native of Maryland and DC, played bass with Danny Gatton from 1976 until the guitarist's death in 1994. Besides working with Rick, he is a very sought after bassist in the DC Area.
Barry Hart was also a member of the Danny Gatton group.He also has worked with many notable musicians in the DC area and is one of the busiest drummers in town; doing free lance recording sessions as well as live performances.
Track List:
Live in Captivity Again
Blues For Mundy
Softly As in a Morning Sunrise
Body and Soul
All the Things You Are
Bittersweet
Stompin At the Savoy
Avalon
What Are You Doing the Rest of Your Life
Sugar
Music Copyright 2006 L.I.C. Recordings