August 5, 2006

RSS 2.0 Feed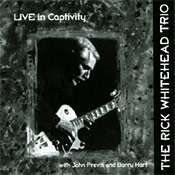 Jazz guitar trio playing a wide variety of styles on traditional standards/ progressive jazz & some high energy contemporary sounds.
"Live in Captivity" was recorded in 1997 and won the Washington Area Music Association "WAMMIE" Award for best Contemporary Jazz Album 1998.
This CD is currently SOLD OUT!!
Track List:
Nostalgia in Times Square
Cherokee
My Little Suede Shoes
When Sunny Gets Blue
Little Sunflower
Makin Whoopee
Break Tune
Caravan
The Gentle Rain
My Romance
Anthropology
Well You Needn't
That's All Folks! (meri-lee-we Roll Along)
Music Copyright 2006 L.I.C. Recordings